10/26/06: The initial order for Hoodies and other apparel has arrived - there are a few of you who I did not connect with at Thursday night practice - please contact me asap to let me know how you would like to get your shirt order delivered. I will be at the game on Friday, and of course a bus chaperone on Saturday. Make checks for this order payable to Band Boosters. belinda@odessabands.com
| | | | |
| --- | --- | --- | --- |
| Aderman, Sandy | $36.00 | Houston, Bruce | PAID, DELIVERED |
| Andrews, Connie | PAID, DELIVERED | Johnson, Belinda | PAID, DELIVERED |
| Bamvakais, Dana | PAID, DELIVERED | Kirkman, Carolyn | PAID, DELIVERED |
| Barnhart, Sharon | PAID, DELIVERED | Lannin, Lois | PAID, DELIVERED |
| Bartels, Cassie | PAID, DELIVERED | Long, Bobbie | PAID, DELIVERED |
| Begemann, Maurice | PAID, DELIVERED | Moore, Kathy | PAID, DELIVERED |
| Biondi, Joe | $20.00 | Raffurty, Pam | $48.00 |
| Cowman, Becky | $18.00 | Schuchner, Pam | PAID, DELIVERED |
| Cox, Sheryl | PAID, DELIVERED | Scott, Laura | PAID, DELIVERED |
| Dukes, Sandy | PAID, DELIVERED | Steelman, Debbie | PAID, DELIVERED |
| Eisenlohr, Susan | PAID, DELIVERED | Turner, Jeff | $20.00 |
| Flexter, Lori | $18.00 | Varner, Rosemarie | PAID, DELIVERED |
| Green, Lou | PAID, DELIVERED | Watkins, Jeanelle | PAID, DELIVERED |
| Hansen, Lindsey | PAID, DELIVERED | Watson, Bruce | $68.00 |
| Holt, Renee | PAID, DELIVERED | White, Cheri | $36.00 |
| Hill, Marie | $18.00 | Wildschuetz, Danese | PAID, DELIVERED |
| Houston, Keli | PAID, DELIVERED | | |
---
There will be ONE FINAL followup order before Indianapolis:
I MUST have your order by Monday morning, 10/30/06 at 8 a.m.
CHECKS FOR THE FOLLOWUP ORDER SHOULD BE MADE OUT TO THE DAWG HOUSE.
(any orders for names not on the above, original list)
Please email your order directly to belinda@odessabands.com ,
including name, phone, email and number/sizes of shirts requested.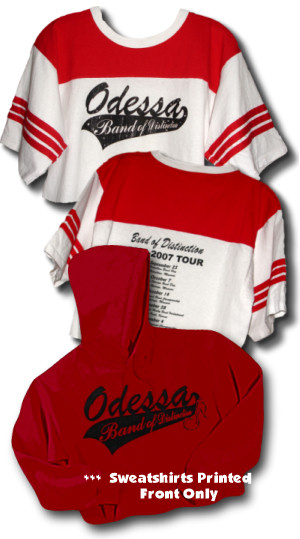 The Red/White T-shirts are still available and are $20.00 each, payable upon delivery. Orders will be compiled from the previous week on each FRIDAY, printed by the Dawg House, and available for pickup usually within a week. Please provide your student's name to make it easier to deliver shirts.
Now Available:
Sweatshirts, Basic & Long Sleeved Tees and Hoodies!
Several have shown interest in a band shirt for cooler weather. We will place an order for band hoodies, crew neck sweatshirts, and long sleeve T-shirts that will be red with the black BOD logo that is on the front of our T-shirts. They will not have any dates so you can wear them in future years. Please note - there is NO design printed on the back. Shirts available are:
Hoodies (Pullover style): $18
Crewneck Sweatshirt: $15
Long Sleeved Tee: $12
Basic T-Shirt: $8
2X-5X sizes available - small additional charge:
2X: add $2, 3X: add $3, 4X: add $4, 5X: add $5
NO SHIRTS WILL BE DELIVERED WITHOUT FULL PAYMENT.