Odessa High School Band of Distinction
Ken Hansen, Director of Bands
713 South Third Street, Odessa, MO 64076
www.odessabands.com
Sign/View Guestbook
CURRENT EVENTS updated 10/28/2006
5th Quarter "Halftime" Show Performance
Please spread the news that the band will be performing the entire field show AFTER Friday night's football game, followed by a fireworks display. (They won't be able to do the full show during actual halftime because it is Senior Night) Please plan to be there to watch and cheer for the Band as we count down to the Indianapolis trip!
10/24/06 SWEATSHIRT/T-SHIRT ORDERS ARE IN
How do I get mine? (and is it too late to still order one?)

Heads Up: Anyone who is interested in a Large Hoodie or a Large Crewneck Sweatshirt - we have one person who needed to order Mediums instead - please contact me if a Large will work for you. They are available immediately upon payment - Hoodie $18, Crewneck SS $15
---
UPDATE: CHAPERONE & HOTEL ROOM NEEDS - INDIANAPOLIS
view MORE/ALL Indianapolis Information
Hard Rock Dinner on Friday: If you are attending as a chaperone, family member or other traveling supporter and will be joining us for the group dinner at the Hard Rock Cafe on Friday night - you MUST submit your meal choice no later than Thursday 10/26. If you don't communicate a preference by Thursday, the Hard Rock Hamburger will be ordered for you by default.
NEW PICTURES: Thursday 10/12/06 | JAMA | Guard Gallery New!
Congratulations: Success at JAMA!
31st Place Class AAA 43 4th Place Overall 43Best Auxiliary (all)4

View all previous mini-slideshow features here
New Band Room Construction Progress Page
All District/All State Audition Music NEW! MP3 Audio Clips!
Hard to believe - but District Auditions are only a month away (Saturday November 11), and State Auditions are two months away!!! I have added the audition materials and scale information for all instruments to the Symphonic Band page and now - audio files to assist you in preparing your audition music!
How to use the Photo Gallery/Slideshow
Welcome Home Cassia and Hannah! You can continue to follow Cassia and Hannah's progress at www.caringbridge.com
Parents and other Band Supporters:
Always check the Booster page for Important News and Updates!
Band Fees Important Information (Indianapolis and Chicago Trips)
FUND RAISING OPPORTUNITIES
As you see from the schedule - there are a number of trips the band and guard is participating in this year. There are multiple fundraising opportunities to assist with these costs. Current and ongoing opportunities include:
Trash Bags - White, Yellow, and new JUMBO Blue rolls of trash bags are a very successful way to add to personal trip accounts. Rolls of trash bags sell for $10 and $3 of every roll goes directly into the student's personal trip account. Need an easy form to take orders - here's a new simple one. When you have as many orders as you're ready to fill - tear off the bottom section, place it in the envelope inside the band room door for Carrie Moore - and she will fill the order and leave it for you by the bulletin board. You can continually sell trash bags all year long.
QSP Reader's Digest Magazine Sales - Didn't work as hard as you would have liked to on the first of the year concentrated magazine sale? You can still benefit from QSP Magazine sales. Click on the banner below, or on the square banner at the bottom of the events calendar or the Links page - you can order magazines directly through those links - entering the student's name that the sale should be credited to when the order is completed. It is a secure shopping site - and students receive 40% of the sales credited to their trip accounts.
2006-2007 School Year Events
The official Marching Band Calendar has been approved by the board of education!
We will march at Carrollton Band Day, Blue Springs Marching Invitational, JAMA Regional Championships, Blue Valley Northwest Invitational, Bands Of America Regional at Indianapolis in November, and perform in concert at the Dixie Classic Concert Band Festival in Chicago, Illinois on May 3-6.
Band Booster Meetings
Band Booster Meetings are the second Monday of every month at 7:00 pm in the Band Room. All Parents of Band Members are Band Boosters!
Click here for Band Booster News and Needs.
Band Contacts:
Ken Hansen, Director of Bands kenhansen_00@yahoo.com
Kirby Spayde, Asst. Director of Bands kspayde@odessa.k12.mo.us
Lindsey Hansen, Director of Color Guard lhansen@odessa.k12.mo.us
Carrie Moore (President - Band Boosters) cmoore@odessa.k12.mo.us
Belinda Johnson (webmaster for the band website) belinda@prodsol.net

OHS School Website Links:
Visit the Odessa High School Site for the BOD here .

The Odessa High School website now has pages dedicated to the Color Guard (including Middle School and Winter Guard), including photos and video clips of their performance. Click here to visit the OHS Color Guard area.

Original Odessa BOD (geocities) pages here.
---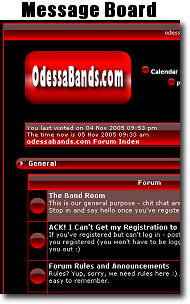 About the OdessaBands Website
Don't forget to check out our full-featured Message Board for interactive communication. Register a username and jump right in!
You'll need a working email account in order to register - if you would like a personalized name@odessabands.com email account - please contact me and I can set that up for you!
Please note - participants under age 13 will need parental permission to participate in the interactive message board. This is for voluntary compliance with COPPA regulations which have to do with protecting children's information online. You can read more about COPPA and why we follow it voluntarily here.