Odessa High School Band of Distinction
Ken Hansen, Director of Bands
713 South Third Street, Odessa, MO 64076
www.odessabands.com
UPCOMING EVENTS
May 2 OHS @ Pride Classic
May 8 OMS Spring Concert @ OMS GYm 7:00 PM
May 12 OHS Spring Concert @ OHS Gym 7:30 PM
May 14 Baccalaureate
May 19 Graduation @ CMSU Multi
May 20 8th Grade Band @ World's of Fun
May 21 OHS Band Banquet @ tile gym 7:00 PM
Holiday Concert Monday, Dec 12 Download the Video!
All-State Band Auditions Saturday, December 3 @ Columbia Hickman
Congratulations to Jacob Pennington for making All State Band!
Thanks to all who helped make the Scholastic Book Sale a success Thanksgiving weekend - especially Tracy Bebout for all her work organizing the event and the volunteers!
District Band Tryouts November 12.
Congrats to Rachelle, Cecil, Chris S., Logan, Jacob P., Joe, and Olivia for making All-District Honor Band. They will have the opportunity to audition for All-State Band in Columbia this December 3rd. Congrats to Marshall and Niall for Making Honorable Mention Band. Performance will be held at CMSU Hendricks Hall on Jan 7th at 7:00.
JAMA Marching Festival
Held at Blue Springs on Saturday, October 29 - you can read the press release and view pictures Here!
2005 BOA Recap and Pictures
On Saturday, October 22, the Odessa High School Band of Distinction competed at the Bands Of America Super-Regional Championship. Click here for a recap!
OMI 2005 - Thanks for another Success!
Thanks to all of the Boosters who volunteered for the Odessa Marching Invitational on October 1! Your efforts made this event a success for the second year!
View more pictures here
Band Booster Meetings
Band Booster Meetings are the second Monday of every month at 7:00 pm in the Band Room. All Parents of Band Members are Band Boosters! Click here for Band Booster News and Meeting Minutes.
Band Contacts:
Ken Hansen, Director of Bands kenhansen@yahoo.com
Kirby Spayde, Asst. Director of Bands kspayde@odessa.k12.mo.us
Belinda Johnson (webmaster for the band website) belinda@prodsol.net

OHS School Website Links:
Visit the Odessa High School Site for the BOD here .

The Odessa High School website now has pages dedicated to the Color Guard (including Middle School and Winter Guard), including photos and video clips of their performance. Click here to visit the OHS Color Guard area.

Original Odessa BOD (geocities) pages here.
---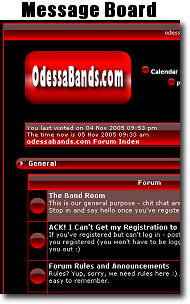 About the OdessaBands Website
I have setup an ongoing " " to log significant changes and additions to this new Odessa Bands digital home. This link opens as a popup window.
Don't forget to check out our full-featured Message Board for interactive communication. Register a username and jump right in!
You'll need a working email account in order to register - if you would like a personalized name@odessabands.com email account - please contact me and I can set that up for you! Please note - participants under age 13 will need parental permission to participate in the interactive message board. This is for voluntary compliance with COPPA regulations which have to do with protecting children's information online. You can read more about COPPA and why we follow it voluntarily here.
---
Success Love Forgiveness Responsibility Enthusiasm Honesty Commitment Patience Desire Perserverance
---