Band of Distinction Places Fourth at JAMA Regional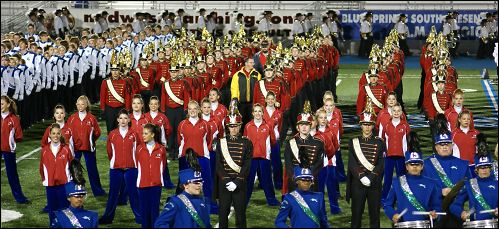 The Odessa High School Band of Distinction won the AAA championship Saturday in preliminary competition at the JAMA Regional Championships hosted by Blue Springs South High School.
The band earned high scores in percussion, color guard, effect, marching and music in the AAA class. Preliminary performance advanced the band to the finals, where they finished fourth overall. The Band of Distinction's color guard won top honors in finals by winning Best Auxiliary.
Prelim Awards

72.52 Odessa
64.48 Troy-Buchanan
56.18 Parkview

Caption Awards

Music - Blue Springs
Visual - Blue Springs
Effect - Blue Springs
Percussion - Blue Springs
Auxiliary - Odessa

Finals Awards

84.78 Blue Springs
79.73 Nixa
77.85 Kickapoo
76.50 Odessa
72.98 Branson
69.08 Goddard
66.13 Truman
65.27 Troy-Buchanan
58.88 Parkview
The next competition for the band will be at 2:30 p.m. on Saturday, October 28 at the Blue Valley Northwest Invitational in Kansas.
On November 4 the band will complete their marching season by competing in the Bands of America Regional in Indianapolis, Indiana at the RCA Dome.
06-07 Appearances
These and many more
pictures in the Gallery!